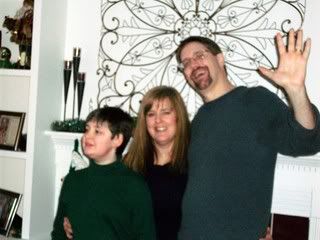 Well, Christmas is over and we had a great time. Casey did great throughout, and despite sorta diving into computer action for comfort and familiarity, he really enjoyed Christmas with my family in Indianapolis. My sister Sue held the festivities at her beautifully decorated home (even the fish bowl had ornaments in it) and we had tons of people, food, gifts and fun. Bill and I won the Wii bowling tournament (we were good, I mean, really good!) Casey got some gifts I don't think he expected due to the fact that all he asked for was Barney and Veggietale dvds. I advised against it and my family got creative and he got some stuff I think he'll really get into.
We hung out a few more days after Christmas and then after much discussion and planning, decided spur of the moment that Casey was gonna stay with his two Aunties (who my mom said loved him more than I did, isn't she a peach?). And so, we are childless at this point.
Today is Bill's Dad Ernie's 85th birthday today, so we went over to his parents pad last night for a little birthday bash with family and friends. It was a lot of fun celebrating the 85th year of a very sharp and funny man! I can only hope Bill can follow in his footsteps! We got to see my sis in law and her hubby, and mom and dad in law of course, and Bill's brother who was worn out from babysitting our 3 cats and 11 Bettas while we were gone. Again, more food and fun was enjoyed along with some lovely champagne!
Being childless, we decided after the party to go hang out at a local bar with Don, Bill's brother, and have a few beers and some good conversation. It felt like quite a luxury not having to worry about a babysitter waiting for us.
And so, we are now going to go out and choose a new paint color for our bedroom. Bill is on vacation and has committed to painting it. I can't decide if we should do something swarthy and sexy, or something bright and optimistic. I'm leaning toward swarthy and sexy, maybe an aubergine? Anything will be better than the ugly light blue I painted it some odd 11 years ago!
We are picking Casey up on Wednesday so he can be with us on New Years Eve, and he is by the way, having a fantastic time and not sounding homesick at all! Little ingrate!